What You Need to Know About Social Media & Data Mining
What marketers don't want you to know
By Mary Ann Wells
I'm a marketer – been doing industrial sales and marketing since the 1980s (yup, I'm that old). I remember when businesses had a big banner in the cafeteria "Loose Lips Sink Ships" and we used to rely on books like Thomas Register* to find prospects because there was no Internet and computers were big machines that had mag tapes and sat in environmentally controlled rooms.
I'm telling you this so you can understand my perspective on social media. While I may be old, I've also grown right along with technology. Started my web design and marketing business in 1998 and then joined with a partner to form Web-Kare in 2000. So, I'm not a technophobe – at least I don't think I am.
Is Your Data Up for Sale?
When it comes to social media, I am stunned at the amount of information I can get on prospective clients by using software that gives you access to the LinkedIn database. Yup, you heard that right. LinkedIn sells access to its database to other companies who create software for you to mine that data.
So, while you thought your company page was in your control, you may not have realized that all information about your company and employees with LinkedIn accounts is up for grabs.
There are many companies that have negotiated with LinkedIn to get access to their database – I'm not selling anything here, so I'm not going to mention them by name. However, you can Google "email finders" to get 27,500,000+ results from Google.
These programs are a wonderful tool for marketers like me. Those who are US-owned companies offering this software are extremely expensive, but those from overseas are very, very reasonably priced. Some claim to find emails and cell phone numbers – that blew my mind!
I'm sure LinkedIn isn't the only social media platform allowing other companies access to their subscriber base. Selling information has become a Multi-Trillion-Dollar industry.
Below is a screenshot of one of the programs in use. I just picked a random company to demonstrate what the information from that company looks like in my software program. I get all the employee names that work for that company who have a LinkedIn account, and I have the option to search for their email address – something I would do for the person with whom I would engage in business talks (certainly I wouldn't want everyone's email).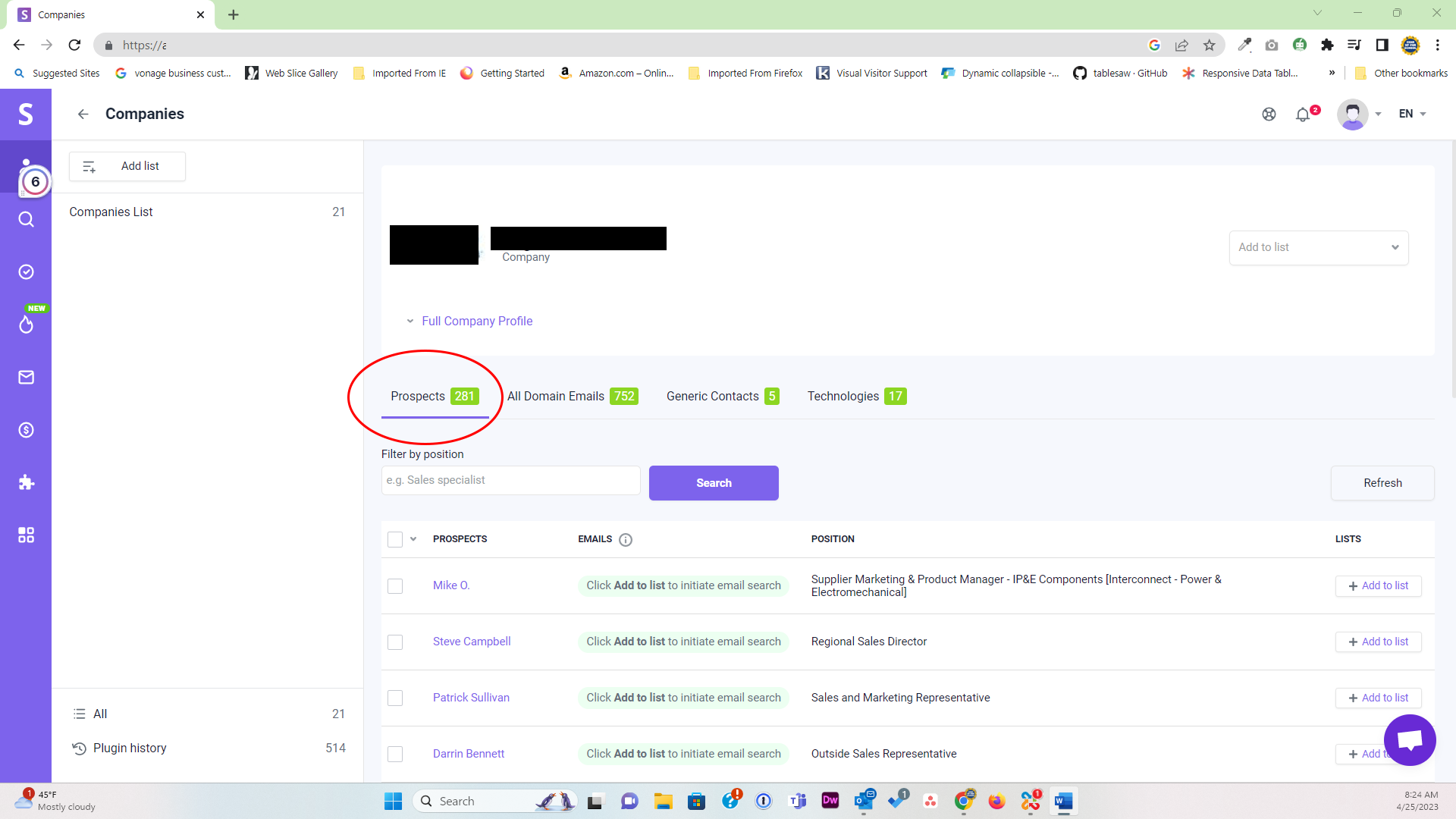 How did I get this information?
I went to the company's LinkedIn page, opened my Chrome extension for data mining, and imported it into my data mining account.
Note that this selected company has 281 prospecting email addresses, the emails that would be most useful for marketers, and 752 domain email addresses. If I click on the Technologies tab, I get a list of all technologies used by this selected company's website. UI framework is ZURB with Microsoft ASP.NET, they use Cart Functionality for their E-commerce, with a Windows operating system, etc. Information that would be useful for people selling them cyber security tools or web hosting.
I find this stunning, and with at least one software company saying they can detect cell phone numbers as well… whoa!
There are two sides to this coin.
One is that these programs are wonderful marketing tools. The other, however, is that these programs, in the wrong hands, can be dangerous. Social media can be dangerous if your employees have not been given guidance on what they can and cannot share on social media – especially true if you are a government contractor or doing work for one.
Awareness is your best defense. I don't have any "fix" for this overflow of information being shared worldwide. Talking with your IT or Cyber Security team could bring out a few ways to protect you and your company. Knowing this, however, gives us a better understanding of why Europe is cracking down on information sharing and selling.
*For those unfamiliar with Thomas Register books, they were a categorized directory of manufacturing companies that manufacturers would order to source their supplies. The set consisted of more than 20 books just with U.S. manufacturers and was replaced year.